†My Space
reviews
sign guestbook
read guestbook
links
contact

.::October 6th, 2010
Hello everyone,

We are sorry to report that the Prymary show this coming Saturday on October 9th in Fullerton, California has been canceled. We were looking forward to rocking out and throwing some interesting covers to boot. Stay tuned for our next show.

Thanks Prymary


.::July 22nd, 2010
Hey there people. Long time no see!!! Just wanted to let you all know that Prymary will be playing another show on August 7th with the wonderful band "Heart of Cygnus". We are very excited to be sharing the stage with them and give the fans a great package show. Two of the best local prog bands that Southern California has to offer. We will be playing cuts from our new album as well as an oldie. Details are below so check it out.

Prymary
Di Piazza's
5205 East Pacific Coast Highway
Long Beach, CA
Doors open at 8:00pm
Show starts at 10:30pm
$7.00 at the door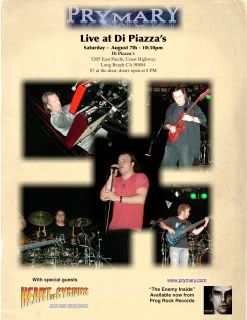 Prymary




.::January 3rd, 2010
Hello Everyone,
Hope all is well. We are really gearing up for our upcoming show at "The Glass House" and are looking forward to it. You can order tickets for will call pick-up on the day of the show by going to http://www.prymary.com/store.html and ordering through Paypal for $10. Otherwise it is $15.00 at the door. We are extremely pleased to be able to offer you discount pricing at this time. The tickets will be available the night of the show.
On another note, we have to announce that due to scheduling conflicts, Rob Young will not be able to play live with us. Rob's contributions to the live sound of the band will be greatly missed but the show must go on as they say. Therefore former Prymary bassist James Sherwood will be coming in to fill the position. We look forward to playing with James again and it will definitely be a fun night. Thank you everyone for your support.

Prymary


.::December 31, 2009
We are happy to annouce our first show since the record release at The World Famous Glass House in Pomona, Ca. We will be playing songs from our new album and maybe somes tricks and turns along the way.... You'll have to be there to see... Don't miss it for anything!!!!! Check out our album teaser while your at it... "The Enemy Inside" is available everywhere now through Progrock Records!!!! Tickets are $10 in advance through us and $15 at the door... Get your tickets now!!!! You don't want to miss this!!!


.::October 12, 2009
New Prymary Promo Teaser for "The Enemy Inside"




Here is a little promo teaser for the new Prymary album "The Enemy Inside". Enjoy!!!!


.::October 02, 2009
Prymary to release "The Enemy Inside" on November 17th, 2009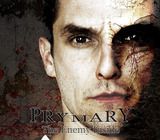 Hey Everyone.

We finally have the new album in the can and are ready to announce that the new Prymary album entitled "The Enemy Inside" will be released through ProgRock records on November 17th. We are taking pre-orders now or you can download it through Mindawn.

More information, ordering and audio samples can be found at http://www.progrockrecords.com/shop/view.php?id=205.
A $2 discount applies on pre-sales until it starts shipping in early October 2009. The previous release "The Tragedy of Innocence" is also discounted to $13.95 during this time at http://www.progrockrecords.com/shop/view.php?id=100.  The album is already available as a digital download at Mindawn http://www.mindawn.com/albums/6014.

"The Enemy Inside" is the long awaited 3rd album from Prymary. This time around shows Prymary transcending their past achievements and creating a collage of stories that are independent and yet united in the themes of self-destruction and dreams unfulfilled. Musically the band shows a further refinement of songwriting and musicianship with songs that are more concise in musical statement, while still having the grand arrangements that Prymary is known for. As is becoming a Prymary trademark, the band has once again given special attention to combining music and lyrics together to convey the mood or feel of the song. This is simultaneously the heaviest, technical, most prog, and emotional Prymary album to date.

PRYMARY is a melodic progressive rock/metal band from Southern California and consists of Jackson Heskett (Vocals), Sean Entrikin (Guitars), Rob Young (Bass), Neil McQueen (Keyboards), and Chris Quirarte (Drums) . The band debuted on the scene in 2003 with its self-titled album and opened for bands such as Fates Warning, Kamelot, and King's X. 2003 also marked the first out of state performance at the renowned ProgPower Pre-Party Festival in Atlanta, Georgia. In 2005, the band travel to Amsterdam, Holland for their first European performance at the Headway Festival. Prymary signed to ProgRock Records in 2006 and released the sophomore concept album, "The Tragedy of Innocence" to rave reviews. The band played live extensively before setting about the task of writing a new album. Entitled "The Enemy Inside", the album is a further refinement of the bands sound, mixing the more adventurous playing with an emphasis on strong, more concise musical statements. 2009 is the year of rebirth for Prymary as the band unveils a new line-up and looks to new sounds to explore.


Prymary
Jackson Haskett - Vocals
Sean Entrikin - Guitar
Chris Quirarte - Drums
Neil McQueen - Keyboards
Rob Young - Bass



.::July 4th, 2009
New Prymary Show - 8-01-09

As promised, here are the details for our first show in 2 years. Please come and help support the band by welcoming us back with the new line-up. Also, we will be performing songs from our upcoming album "The Enemy Inside" (which is being mixed at this very moment).
August 01 - 2009

Fitzgerald's Sports Pub
19171 Magnolia St.
Huntington Beach, CA. 92646
(714) 968-4523
Show starts at 10:00pm
$6:00 cover charge


.::June 29th, 2009
It has been an exciting and fruitful time for us here in the Prymary camp. There has been a lot of activity and plenty of surprises. We have a new album currently in the beginning stages of mixing and a release date coming soon. However, it is my sad duty to announce that Smiley Sean has decided to leave Prymary and go back to school to pursue a career in film scoring. Although he would have liked to have continued in the band, the demands of school and Prymary would have been all but impossible. We fully support him in his new endeavor and wish him the best of luck. Smiley will still be involved behind the scenes with production and engineering. Coming in to replace Smiley will be Neil McQueen who comes in with a wealth of studio and live experience. Neil's contributions to the group add a wealth of creativity and freshness to the group. On vocals to replace Prymary's former vocalist Mike DiSarro will be Jackson Heskett. Jackson is a bustling live musician and brings his tremendous vocals to the group. On bass we have Rob Young who has played live with the band since 2006. All of these talented musician's join Sean and I in rounding out our line-up. We will be making our live debut with this line-up on August 1st in Huntington Beach, California. More details to follow. Thanks to everyone for supporting us through our time of need. It has been 2 long years since we have played live and we are really looking forward to it. All we can say is it's good to be back.



Prymary is:
Jackson Heskett - Vocals
Sean Entrikin - Guitar
Chris Quirarte - Drums
Neil McQueen - Keyboards
Rob Young - Bass


.::September 3rd, 2008
Mike Di Sarro and Prymary part ways!

It is with heavy heart that I announce today that Mike Di Sarro and Prymary have decided to part ways. Mike has been with the band since 2001 and has played a big part in everything that we have done. We worked through the end of last year and the beginning of this year on writing our new album and were all set to go. The music was recorded and we were shooting for a release date of later this year. However creative differences began to set in (slowly at first). Over time the differences began to be more significant until we were left with no other recourse. There is no one to blame and I truly believe we just grew apart stylistically. Mike is a good friend and a fantastic vocalist. We will always cherish his contributions to the band.

So now we are left with an album's worth of music recorded and no vocals. Which leads us to the next phase which is to find a new vocalist . We are determined to find the right person and continue on with what we have started. We will be holding auditions very soon. Interested parties in the Southern California area should send me an e-mail at prymary@prymary.com . We are really looking to go in a different direction in the vocal department so we are very open to different styles and ideas. Thanks to everyone who has supported us and I promise you that we will be back and stronger than ever. We are very excited about the new music we have written and feel we have continued to progress in style and composition.

Chris